• Colleen Wilcox • beach decor • beach girl • colleen wilcox • flowers • Hawaii Art • lei • moani • north shore • oahu • surf art • tropical • tropical art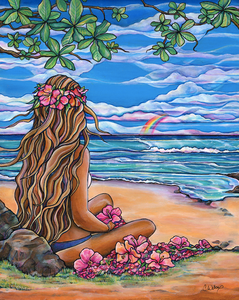 "Moani" 16"x20" acrylic on canvas by Colleen Wilcox Have you ever sat outside on a warm day and felt soft breezes on your skin blowing the fragrance of summer flowers in the air? The Hawaiian word "Moani" means a light or gentle breeze that is usually associated with fragrance. For me, living in Hawaii means I get to experience such delights all year round. Not only do the trade winds bring fresh scents of plants and flowers, but also the salty air of the tropical sea.  I try to spend as much time as I can on the beach, taking...
---
• Colleen Wilcox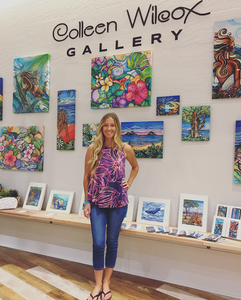 It has been a long time since I've updated this blog, so it is way overdue that I share some of the exciting events and happenings related to my artwork in Japan.  Although a few stores had already been carrying my artwork in Japan for several years, I had yet to actually visit the country myself. I finally made my first visit (nearly one year ago now) and have since gone two more times. The most exciting part of my trips so far has definitely been the opening of the Colleen Wilcox Gallery in Yokohama which launched in September of 2017.  When...
---
• Colleen Wilcox • Art Festival • Artwork • Colleen Wilcox • Colleen Wilcox Art • Haleiwa • Haleiwa Arts Festival • Hawaii • Hawaii Art • surf art
Thank you to everyone who came out to the annual Haleiwa Arts Festival! I had a great time seeing some familiar faces and meeting new people. See you again next July :) Colleen Wilcox Booth at the Haleiwa Arts Festival 2017 Colleen Wilcox giclee reproductions on canvas  Colleen Wilcox original framed sketches Colleen Wilcox booth at the Haleiwa Arts Festival 2017            
---
• Colleen Wilcox • acrylic • banana • Colleen Wilcox • Hawaii • leaves • monstera • painting • palms • tropical • tropical leaves
Aloha Friends! I am happy to present to you my latest original painting entitled, "Island Oasis." It is a 24"x30" acrylic on canvas original, featuring some of my favorite tropical leaves (monstera, banana, ferns, palms and colocasia). I would now love to share with you some of the process and inspiration behind my newest piece.  Living in Hawaii, I am inspired on a daily basis by all of the incredible tropical leaves that can be found in nearly every outdoor space (even gas stations and parking lots!). Although I have included leaves in many previous paintings, I have never made...
---
• Colleen Wilcox • Acrylic • Colleen Wilcox • Humpback • Original Art • Painting • Sea Life • Whale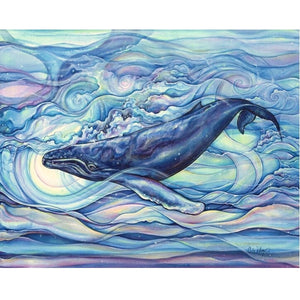 Magical, mysterious, magnificent humpback whales! I am so excited to have finally expressed my love and respect for these animals in my new published original, "Mystic Blue". Keep reading to find out the process behind this 24"x30" acrylic on canvas painting! "Mystic Blue" 24"x30" acrylic on canvas by Colleen Wilcox  I began this piece back in November of 2015, just at the start of whale season in Hawaii. Hoping for some real life inspiration, I scanned the waters daily for my first sighting. But the humpbacks were slow to arrive this season, and reports of sightings were only trickling in over...