• Colleen Wilcox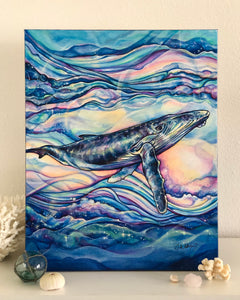 It's whale season in Hawaii, a time from November to April when the beloved pods of humpbacks from Alaska migrate to the islands to mate, give birth, and nurse their calves. I have always enjoyed when they are here- seeing my first spout, watching for breeches on catamaran tours, and flying to Maui to gaze at mothers and babies frolicking in shallow bays.  This year I didn't travel off of Oahu or go on any tours, but I was still very inspired to attempt to capture their beauty and mystique with acrylic painting in my own way. I had previously only...
---
• Colleen Wilcox • Colleen Wilcox • Floral Art • Original Art • Tropical Flowers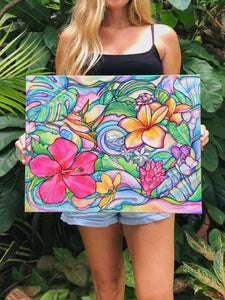 Happy New Year! Although we are well into January the Hawaiian weather has been holding strong this year making everything look sunny and bright. Although some of the summer flowers such as plumeria are not currently in bloom, the island is lush with ginger, hibiscus and much more. Since I am constantly inspired by admiring the local nature, one of my favorite things to paint are what I call floral "medleys". In these swirling, dynamic compositions I arrange a variety of tropical plants amongst abstract shapes, fluid lines and washes of color.  My newest original "Jubilee" is my latest floral medley painted...
---
• Colleen Wilcox • acrylic on wood • colleen wilcox • fish art • time lapse • tropical fish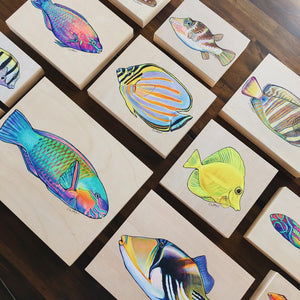 I recently put together a time lapse video of me painting my tropical Hawaiian fish on wood collection. Check it out to see my process!
---
• Colleen Wilcox • Acrylic • Artwork • Beach • beach decor • Colleen Wilcox • Colleen Wilcox Art • Hawaii • Landscapes • original painting • tropical • Waimanalo • Waimanalo Beach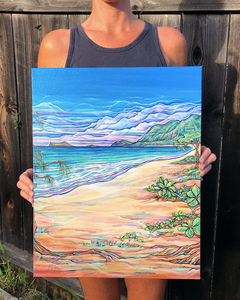 Check out the painting process behind my newest piece, "Waimanalo Beach"!
---
• Colleen Wilcox • Colleen Wilcox • murasaki sports • rikka femme • surf art • surfboard • surfing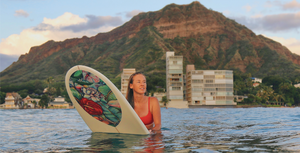 One of my favorite recent collaborations has been with Japanese surf brand, Rikka Femme, whose parent company Murasaki Sports created two lines of artwork surfboards with my designs.  The first round featured my "Botanical" artwork on the tail and underside of the nose on a limited edition (of 100) 7'2" fun board shaped in Japan.  Next they came out with soft tops in two colors featuring my "Paradise" artwork on the underside of the nose in similar dimensions as the previous board.  I have been enjoying riding the limited edition board for quite some time now. It always feels exciting to be...