• Colleen Wilcox • beach • Hawaii • oahu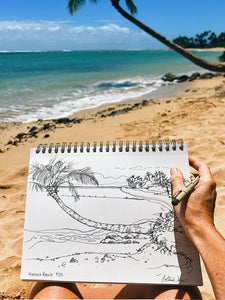 I've decided I'm going to spend way more time outside sketching my environment and the beautiful things that I see 🌊🌴☀️
---
• Colleen Wilcox • Beach Art • Beach Landscape • Colleen Wilcox • Hawaii • Hawaii Art • Hawaii Artist • North Shore • Oahu • Original Artwork • Painting • Pupukea • Shark's Cove
Colleen Wilcox shares the inspiration behind her tropical beach painting of Shark's Cove (Pupukea) on the north shore of Oahu, Hawaii.
---
• Colleen Wilcox • Beach • beach art • Colleen Wilcox • Colleen Wilcox Art • Hawaii • Hawaii art • Kaaawa • Kaaawa Beach • Oahu • Tropical Beach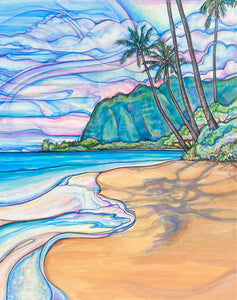 "Windward Skies II" is a dreamy view of the landscape in Ka'a'awa Beach on the eastern side of the island of O'ahu. It was inspired by my countless trips driving to the north shore and feeling awed by the incredible scenery along the way. My favorite stretch of highway runs through this area where it feels so wild, untamed and free. I love looking up at the mountains reflecting sunlight, and breathing the salty air that blows onshore with the trade winds.  I was moved to paint this vantage point several years ago with my first painting "Windward Skies", and had been...
---
• Colleen Wilcox • beach decor • beach girl • colleen wilcox • flowers • Hawaii Art • lei • moani • north shore • oahu • surf art • tropical • tropical art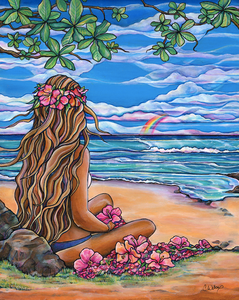 "Moani" 16"x20" acrylic on canvas by Colleen Wilcox Have you ever sat outside on a warm day and felt soft breezes on your skin blowing the fragrance of summer flowers in the air? The Hawaiian word "Moani" means a light or gentle breeze that is usually associated with fragrance. For me, living in Hawaii means I get to experience such delights all year round. Not only do the trade winds bring fresh scents of plants and flowers, but also the salty air of the tropical sea.  I try to spend as much time as I can on the beach, taking...
---
• Colleen Wilcox • Artwork • Colleen Wilcox • GVKailua • Kailua • Oahu • surf art
Yesterday I had a great time at Global Village in Kailua for an art signing and 'meet and greet'. I really love the town of Kailua, and am thankful for all the people there that support my art!  This was the first time I got to check out the new wall of prints, phone cases and hats- Love it!  I am so appreciative of everyone that came in to say hi, and am thankful of this opportunity to share my artwork with the residents and visitors of Kailua! I hope you can stop in next time you're in the neighborhood! Stay...