• Colleen Wilcox • artist tips • colleen wilcox • hibiscus • hibiscus drawing • how to • how to draw • how to draw flowers • tips • tropical flowers • video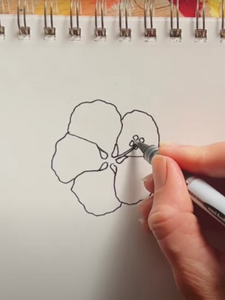 I wanted to share with you guys a quick and easy way to draw one of my favorite flowers, a tropical hibiscus. This is the method I use to draw hibiscus when I am doing a simple sketch. I hope you follow along and enjoy!
---
• Colleen Wilcox • Colleen Wilcox • Floral Art • Original Art • Tropical Flowers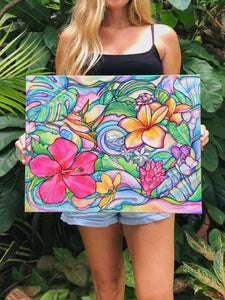 Happy New Year! Although we are well into January the Hawaiian weather has been holding strong this year making everything look sunny and bright. Although some of the summer flowers such as plumeria are not currently in bloom, the island is lush with ginger, hibiscus and much more. Since I am constantly inspired by admiring the local nature, one of my favorite things to paint are what I call floral "medleys". In these swirling, dynamic compositions I arrange a variety of tropical plants amongst abstract shapes, fluid lines and washes of color.  My newest original "Jubilee" is my latest floral medley painted...