• Colleen Wilcox • beach • Hawaii • oahu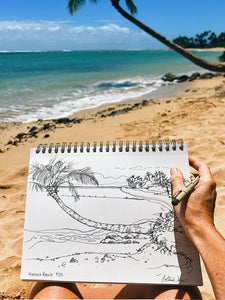 I've decided I'm going to spend way more time outside sketching my environment and the beautiful things that I see 🌊🌴☀️
---
• Colleen Wilcox • Beach • beach art • Colleen Wilcox • Colleen Wilcox Art • Hawaii • Hawaii art • Kaaawa • Kaaawa Beach • Oahu • Tropical Beach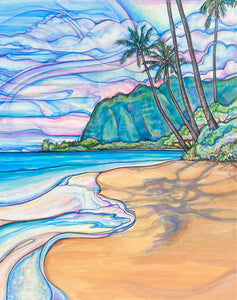 "Windward Skies II" is a dreamy view of the landscape in Ka'a'awa Beach on the eastern side of the island of O'ahu. It was inspired by my countless trips driving to the north shore and feeling awed by the incredible scenery along the way. My favorite stretch of highway runs through this area where it feels so wild, untamed and free. I love looking up at the mountains reflecting sunlight, and breathing the salty air that blows onshore with the trade winds.  I was moved to paint this vantage point several years ago with my first painting "Windward Skies", and had been...
---
• Colleen Wilcox • Acrylic • Artwork • Beach • beach decor • Colleen Wilcox • Colleen Wilcox Art • Hawaii • Landscapes • original painting • tropical • Waimanalo • Waimanalo Beach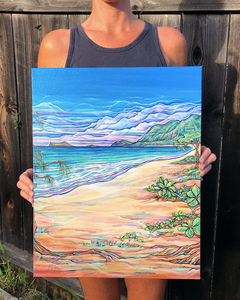 Check out the painting process behind my newest piece, "Waimanalo Beach"!
---
• Colleen Wilcox • Beach • Hawaii • Landscapes • Lanikai • Oahu • original painting • painting
Imagine turquoise water, balmy sea breezes and a picturesque beach with sand as fine as sugar...and you can feel what it is like to stand on the shores of the famed Lanikai Beach. Lanikai is a beautiful area, and one I remember fondly from my childhood when my grandparents had a house overlooking the iconic Mokulua Islands. Because of my affinity for this place, when I was asked to paint a Lanikai beach scene I was excited to begin. It is always interesting to work within the bounds of what a client requests. I find it a particular challenge to...