• Colleen Wilcox • Acrylic • Colleen Wilcox • Humpback • Original Art • Painting • Sea Life • Whale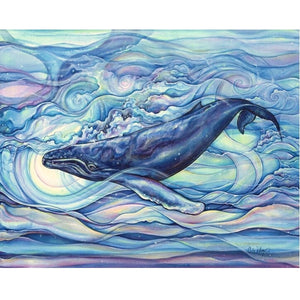 Magical, mysterious, magnificent humpback whales! I am so excited to have finally expressed my love and respect for these animals in my new published original, "Mystic Blue". Keep reading to find out the process behind this 24"x30" acrylic on canvas painting! "Mystic Blue" 24"x30" acrylic on canvas by Colleen Wilcox  I began this piece back in November of 2015, just at the start of whale season in Hawaii. Hoping for some real life inspiration, I scanned the waters daily for my first sighting. But the humpbacks were slow to arrive this season, and reports of sightings were only trickling in over...
---
• Colleen Wilcox • accessories • Artwork • Colleen Wilcox • Handbags • Hawaii • LeSportsac
What an honor it was to be invited to collaborate with the famous handbag and accessories company, LeSportsac! I am excited to share with you a behind the scenes look at the process of creating my Hawaii exclusive design, "Ku'u Le'a," from painting to finished product!  Colleen Wilcox in front of the LeSportsac store at the Royal Hawaiian Center in Waikiki After my first several meetings with the Hawaii LeSportsac team, the vision was to create a design that represented the source of inspiration for my artwork. Living in Hawaii, I am very inspired by the incredible beauty of the ocean and...
---
• Colleen Wilcox • Artwork • Colleen Wilcox • GVKailua • Kailua • Oahu • surf art
Yesterday I had a great time at Global Village in Kailua for an art signing and 'meet and greet'. I really love the town of Kailua, and am thankful for all the people there that support my art!  This was the first time I got to check out the new wall of prints, phone cases and hats- Love it!  I am so appreciative of everyone that came in to say hi, and am thankful of this opportunity to share my artwork with the residents and visitors of Kailua! I hope you can stop in next time you're in the neighborhood! Stay...
---
• Colleen Wilcox • Artwork • Colleen Wilcox • Haleiwa • Haleiwa Arts Festival • hawaii • surf art
Every July for the past four years I have participated in the annual Haleiwa Arts Festival on the north shore of Oahu. This year the festival fell on July 18th & 19th, featuring over 90 artists, photographers, crafters, jewelers, and designers displaying their creations in booths along the beach park.  We spent weeks preparing by building and painting the booth walls, ordering products, and creating new artwork. Finally Saturday morning of the festival had arrived, and the finishing touches on the booth were complete and ready to show off!  I love to display a wide range of products with my artwork on them. Everything from original paintings, to...